It's early in the morning of a summer month in the late 1970s when Bruce Barr wakes his son with these few words: "It's a KAVU day, we have to get outside and make the most of it!" And those few words evoke the promise of a sunny, bright day full of adventure, challenges, sports and fun.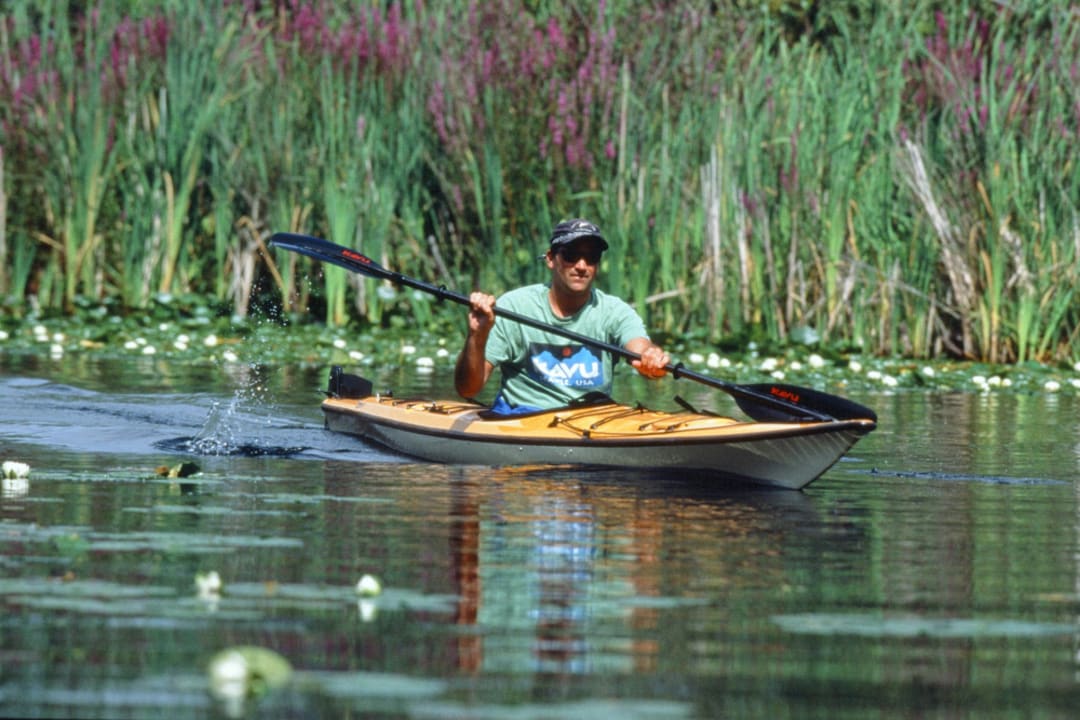 Because this is how Bruce has lived since he was a child. This fisherman's son fell into the world of fun at a very young age. During the first decades of his life, he did everything that could be a source of adrenaline. Water skiing, hang gliding, motorcycling, skiing… And if there is no snow, then let's roller ski!
This search for fun is a credo, a philosophy, a way of looking at life in its best light, whether it is happy or full of pitfalls. As the years go by and he becomes a young father, Bruce Barr is naturally summoned by his wife to calm down a bit. The too intense activities could have hurt, or even unfortunately killed close friends.
The Barr family settled on the San Juan Archipelago, in the state of Washington, three hours by ferry from Seattle. It' s here, in this green setting, that the Barr family will continue to flourish. Bruce left a previous job that he considered boring and went into the fishing business. A thriving business, in fact. With his seine boat (meaning a net), and always in a spirit of challenge and fun, he went up to Alaska, where he made massive catches. Enough to make a comfortable income for him and his family, and especially enough to free up time to continue to have fun (in a more reasonable way perhaps).
During his years of hard and happy work, the pleasure of sharing as much as anything else, Bruce Barr will teach the rudiments of fishing and business to his son. Because yes, this long intro was a necessary preamble before tackling the one we are really interested in: Barry Barr, Bruce's son, and creator of KAVU.

It's a CAVU Day, We Can Fly Over the Mountains to Idaho.
Yes, when the brand was launched in 1993, the young Barry Barr owed a lot to his father. For one thing, and not the least, the name KAVU. An acronym used by aviators meaning "Clear above sky-Visibilty Unlmited" (or Ceiling and Visibility Unlimited), the promise of a radiant sky where all adventures are permitted. A call of nature in short.
Secondly, as mentioned above, Barry Barr learned about fishing and entrepreneurship from his father. In 1987, at only 17 years old, the future creator of KAVU was already captain of his own fishing boat. And it was during these years that he had a flash of genius.
At sea, you have to be well equipped, and as a saying from the time went, "there are no accidents, only bad preparation". With boots on his feet, gloves on, and an indestructible Carhartt coat on his back, Barry was ready to face the weather. But there's a catch: his caps fly off constantly when the wind blows, and in the open sea it can easily exceed 100 km/h.
Drawing his inspiration from the Teva sandals, he decided to equip his caps with an elastic band to improve the fit. From prototype to prototype, the Strapcap was born. At the time, it was not yet called that, and it took several years of word of mouth and small sales to experienced sailors before the KAVU brand was officially born in 1993.
Just Have Fun.
For several years, the brand struggled to establish itself in the market. The beginnings were strong thanks to the Strapcap, then as for many companies there were ups and downs. Today, the label is present in more than 1,000 retailers around the world, notably in Japan and South Korea. The HQ and flagship is still in Seattle, in the Ballard neighborhood, and Barry Barr is still at the helm.
The reason for this success? KAVU is a reflection of the Barr family philosophy. Adventures and misadventures, like any life, but always with fun in mind. The energy, kindness, and knowledge that Bruce Barr passed on to his son permeates every layer of the company. From the sourcing of raw materials that meet all possible environmental standards, to the healthy corporate culture that promotes employee happiness and autonomy, to the final product that is made to be fun in all circumstances. In the rain, in the sun, on the snow or in the air. So… Let's go, it's a KAVU day !